Commercial/Industrial Systems
The best way to keep your business secure is with a professionally-installed security system from Asheboro Fire & Security! Statistics show that a business without a security system is 4.5 times more likely to be burglarized than those businesses that have security systems. Those odds can be beat with a state-of-the-art security system from us.
Asheboro Fire & Security, your local Honeywell Authorized Security Dealer, stays on top of all the leading technology in our industry. We customize your commercial/industrial security system according to your specific needs, and provide wired and wireless security systems that will meet any situation that may arise. Our trained personnel will walk you through all of the operations too, and give you helpful insights into the best monitoring setups available.
The system we design can also provide all the essential elements of a superior security system including:
Door And Window Contacts
Hold Up Buttons
Motion Detection Systems
Monitored Sprinkler Systems
Glass Break Detection
Smoke Detection
Gas Detection
Carbon Monoxide Detection
And More…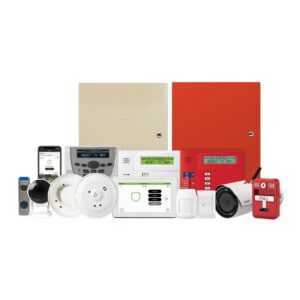 We can even provide a system that has partitions and exact point ID of alarms
Best of all, Asheboro Fire & Security provides a 24-hour monitoring service which can include open and closed reports, total connect services, as well as cellular and internet monitoring.
"Asheboro Fire & Security just finished an install at our office today. The technician who fulfilled our work order was very knowledgeable and thorough. He answered all of my questions and I was quite impressed with his level of expertise, professionalism and customer service.  He seemed to really love what he does and it shows! I will definitely refer other business partners as well as family and friends to Asheboro Fire & Security."
-Laura D. of Asheboro, NC
Don't leave the safety of your business to chance! For more information concerning our commercial security systems, speak to someone at Asheboro Fire & Security, call 336-629-3881.