About Asheboro Fire & Security
A History of Service
Asheboro Fire & Security is an old company with a new name. We started out as the alarm division of Asheboro Key, Lock & Alarms, Inc. Charlie Anderson founded the company in 1931, but at that time it was known as Asheboro Key & Lock Shop. Bill Wright purchased the company from Charlie Anderson in 1980. Bill was already installing alarm systems, so he merged the two companies and offered both services under the name Asheboro Key, Lock & Alarms, Inc.
Asheboro Fire & Security started doing business under this name on January 1, 2005. The President/Owner of Asheboro Fire & Security, Darwin Smith, started working with Asheboro Key, Lock & Alarms in 1985 and went on to become the alarm division manager as the business grew. Darwin and his staff have over 95 years' experience in the industry.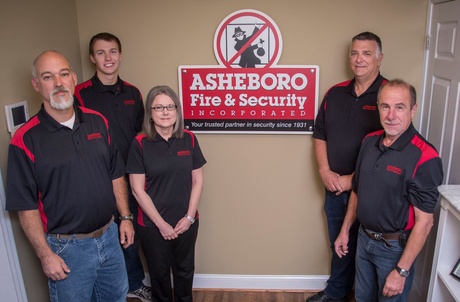 Total Security Capabilities
The goal of Asheboro Fire & Security is, and always has been, to offer you the best quality installations, services, and products for your money. Our company is fully-licensed to do what needs to be done to professionally take care of our clients. We are members of the North Carolina Security and Low Voltage Association and our local Chamber of Commerce.
We offer commercial and residential sales, installation and service of the following systems: fire alarm systems, security systems, camera systems, access control systems, home theatre & entertainment systems, intercom & music systems, central vacuum systems, and 24 hour monitoring services. In everything we do, Asheboro Fire & Security offers you the experience, commitment, and reliability that you should look for in a fire and security dealer.
For more information about our business, or to schedule your own appointment with us,
please call Asheboro Fire & Security at 336-629-3881.